How to Order Samples
How to order
Looking to bring the beauty and durability of Libbey tableware to your business? You have great taste! From browsing our website to placing your order, here are three ways to get Libbey products in your hands:
How to order product samples
Order free samples* of the items featured on our website to try them out in your restaurant or bar. Here's how:
1. Visit the product page for the item(s) you are interested in and click "Add Samples to Cart" or add via our "Quick Add" button below the product on the product listing page.

Note: Not ready to order samples yet? Choose the "Add to Product List" option to build a wish list of Libbey products to sample later.

Note: You may order up to 2 items per SKU number. Select items not available to sample. Product Lists are an easy way to send your wish list to colleagues or your Libbey/distribution representative.

2. Continue browsing the site and add any additional products you'd like.
3. Once you're finished, go to your cart by clicking on the bag icon at the top right corner of the navigation bar.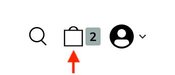 4. Click "Request Samples" at the bottom right corner of the cart slider.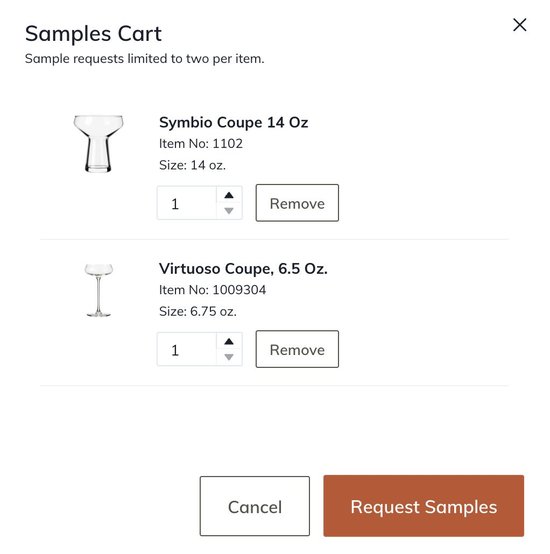 5. Next, you will be prompted to fill out your information so we can send you your samples. When you're finished, click "Submit Request."

Note: We cannot ship to P.O. boxes at this time.

*Sample requests are for current or prospective Libbey foodservice customers only, and invalid requests will be canceled.
How to connect with a Libbey sales representative
The best way to learn more about our products is to connect with your local Libbey sales representative. Not only are they experts on our full assortment, they can also help you build your tabletop and make your final selections based on your service style and preferences. Here's how to contact a rep near you:
1. Click on "Sales Reps" in the upper right corner of the navigation bar.

2. Select your region (defaults to US Sales) and state to see your rep's contact information. From there, you can choose to call or email your rep to inquire about getting more information, requesting additional samples, or placing an order.

Note: Include a list of your current suppliers in your request so we can determine which distribution partner is right for you.
How to submit a request
Another way to get Libbey samples in your hands is by submitting a request via the ticket queue on our website. You can also use this function to send a message to our sales team with additional details about what you're looking for. It's simple:
1. Click here.
2. Fill out the form and submit your request. Once submitted, a Libbey sales rep will follow up with you.
Next steps
Ready to place your order?
While we do not sell our foodservice products directly to consumers at this time, we encourage you to reach out to a Libbey sales representative, who can guide you to one of our preferred distributors to make a purchase.